I used to do this hop before I started blogging. If you are a quilter you can collect the patterns as you go at the end of the hop you have your info for this beautiful quilt.
Fab Shop Hop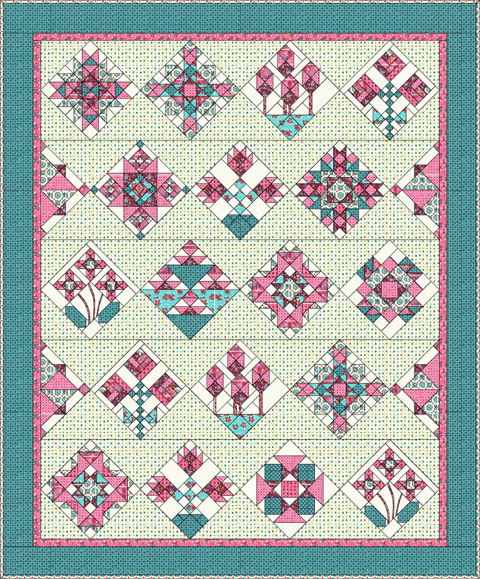 13 Botanical Garden Sampler Blocks
Search for 13 Botanical Garden Sampler Blocks in the March FabShop Hop!
Stroll along the quilted garden path to a Botanical Garden Sampler. A medley of 13 flower blocks set on point, with a horizontal zigzag setting evoke visions of nature and allow you to create your own Botanical Garden quilt. Each 12" flower block features an array of colors and uses quick piecing methods; easily made by quilters of all levels. Enjoy your finished 81 1/2"x 98 1/2" quilt while relaxing in your favorite surroundings.
The bonus blocks circulate through the "Prize Verification Confirmation Page." This page appears after you have successfully registered for prizes on the "Prize Verification Page." When you find a bonus block, click on the block to download a PDF of that block and assembly instructions. Also, check your list of visited shops in your
member area
to re-download block pdfs you have missed downloading.
Remember that the bonus blocks are moving around all the time, so you may need to check the shops more than once to find them all—a great reason to revisit your favorite shops!
From April 1-30, the material list and assembly directions, plus your March
Botanical Garden Sampler
bonus block finds will be in your member area. After April 30, the
Botanical Garden Sampler
quilt pattern or kit may be available for purchase at these
shops
.
Botanical Garden Sampler Show 'n' Tell Challenge in June!
We will also host a Sampler Show 'n' Tell Challenge in June. Here's how to participate:
Make a finished quilt top from the Botanical Garden Sampler quilt blocks. Creativity is encouraged.
Take a great digital photo of your quilt and submit it to showntell@fabshophop.com by no later than June 10. The image must be 300 dpi, and 4 inches wide or 1200 pixels wide.
Give your quilt a name.
Be sure to include your name and contact information.