Mia and the Migoo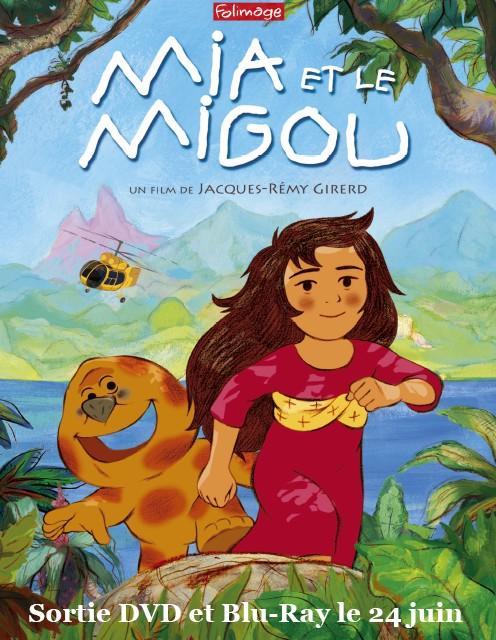 Being not exactly a kid anymore, its not common for me to watch movies that are aimed at our younger audiences anymore, although I do still enjoy them. However, when I was asked to review the french directed Mia and the Migoo, I was really intrigued by its different style of animation seeing as how these days most modern kids films are 3D, whereas Mia and the Migoo is created from an awesome 500,00 hand painted frames. Not only that, it also has some very well known actors in it too such as John DiMaggio (Transformers: Dark of the Moon, Bee Movie), Whoopie Goldberg (Sister Act, Ghost), Wallace Shawn (Toy Story 1,2 and 3, The Incredibles, Monsters Inc.) and some others too!
The film follows the story of Mia who must overcome her fears on a quest to find her father, while at the same time helping the Migoo, who are innocent, bumbling forest spirits that change shape as they please, morphing from small, childlike beings into petulant giants. The film carries a very strong eco-friendly message with beautiful art inspired scenes.
I really loved this movie, it made me chuckle with some of Mia's and the Migoos' antics and sense of humour. It could be very dramatic at times too and all the colours used set the scenes beautifully, I especially loved the scenes that are in antarctica, I truly thought that the night sky with the southern lights shown were gorgeous. I am a little concerned however, about the audience that this film targets as I feel that some of the scenes really would scare some of the younger audiences, despite it saying on the dvd case that it is family approved.
Overall I would highly recommend that you guys watch this movie, it definately earned it's European film award for best animated feature. I would say it may be an idea to watch it with your younger kids though so that they have a shoulder to hide in if they find a scene a bit too scary to watch though.

About the movie:
From the distributors of the Academy Award®-nominated The Secret of Kells, comes MIA AND THE MIGOO, the gorgeous second feature from renowned French animator Jacques-Rémy Girerd. A fable-like journey of a young girl who must overcome her fears on a quest to find her father and save the world from destruction, MIA AND THE MIGOO was created from an astounding 500,000 hand-painted frames of animation. A stunning work of art, breathtaking to behold, with backgrounds that invoke Van Gogh, Monet, and Cezanne, it also features the voices of Whoopi Goldberg, Matthew Modine, James Woods and Wallace Shawn.
Following a premonition, Mia sets out on a cross continental journey, though mountains and jungles in search of her father, who has been trapped in a landslide at a construction site on a remote tropical lake. In the middle of the lake stands the ancient Tree of Life, watched over by innocent, bumbling forest spirits called the Migoo, who grow and change shape as they please, morphing from small childlike beings to petulant giants. The Migoo have been disrupting the construction to protect this sacred site – and now together with Mia they join in a fight to find Mia's father and save the Tree, with the future of life on Earth hanging in the balance.
·
John DiMaggio (Transformers: Dark of the Moon, Little Fockers, Bee Movie)
·
Whoopi Goldberg (Ghost, For Colored Girls, Sister Act)
·
Matthew Modine (Full Metal Jacket, Married to the Mob, Cutthroat Island)
·
Wallace Shawn (Toys Story 1, 2, 3, The Incredibles, Monsters, Inc.)
·
James Woods (Once Upon a Time in America, The Virgin Suicides, Casino )
Mia and Migoo went on sale August 7th and retails for $19.95! You can get yours on
Amazon
or if you are feeling lucky you can enter to win your copy right here! THREE lucky winners will each receive a copy of Mia and the Migoo! This giveaway is open to United States and Canadian residence. You must be 18 to enter. All you need to do is the simple mandatory entries the rest are all optional. You can do just the mandatory entries or all of the entries (the more you do the better are your chances of winning!) that is up to you!
Disclaimer: I did
receive a sample of this product so I could write my review. Even so I would never say I liked something if I did not, nor would I tell my readers about something if I felt it would be harmful to them