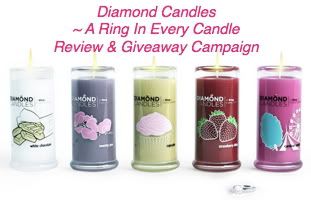 Diamond Candles is looking for Bloggers to post reviews and giveaways on their candles.
These are scented soy candles and get this each candle has a ring hidden in it!
These rings are valued
anywhere from $10-$100-$500-$5000 each
The requirements are easy
It's Free,
It is Open to the U.S. Only
The Review and Giveaway are sponsored by Diamond Candles
and they want their Facebook and Twitter pages mentioned, and some keywords in the review.
If you want to participate you need to blog about this opportunity and then
go to
Whole Lotta Mama
to read more on this event and fill out the review request form.
This event is Free to you.