I am so not ready for Thanksgiving this year. I am heading to the grocery store to get it all together.
I wanted to give you young just doing it for the first timers some tips....
When to take the turkey out of the freezer to thaw....
From the Honeysuckle website:
Turkey # Size Thawing Time
in Refrigerator:
8-12 lbs. 1-2 days
12-16 lbs. 2-3 days
16-20 lbs. 3-4 days
20-24 lbs 4-5 days
Now they say to do it in the fridge but in the past this has not worked really well for me so I put it in the sink and I refresh the water all day. Then I stick it back in the fridge, why? I have had in the past a few Turkey day mishaps, my first year ever doing my own Turkey I decided to do it in the Microwave...... bad idea it took many hours and many unhappy people later we had hamburgers because the thing would not cook right.... Then the year I got married and did a turkey on my own, I did not take it out to thaw until that morning... OH NOES! I went to the store to try and buy a thawed Turkey and we had chicken instead.....so now I take my turkey out no later then Tuesday and thaw it in the sink then I put it in the fridge until the big day.
I also use cook in bags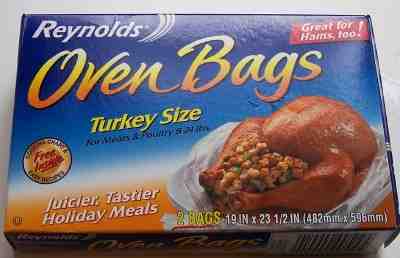 These little jems keep the juices all in there and my Turkey has never been dry and hard to eat.
Plus the cooking time is a snap...no getting up at 2 in the morning to put that bad boy in the oven for me!
Gravy, if you are not a gravy officialdo but want to make your own here is the key to great gravy not out of a jar or package:
Remove the turkey from your roaster and set it aside to rest, then drain all the turkey juices into a Pyrex measuring cup,let it set for a few minutes then ladle off the fat that is floating on top( keep 2 tablespoons)
For each cup of liquid left in the measuring cup you are going to put 2 tbls of flour , the tbsp of fat in a pot or deep skillet and stir until it is thick this is roux. Then mix in 1 cup of cold water, whisk it good you want it to be really smooth. I don't transfer the roux I put it on the fire and slowly add the drippings in the measuring cup while whisking it all to make sure the gravy doesn't lump up on me, you want to do this slowly not all at once, some people like the drippings to be hot when you transfer them, I don't know that this matters as long as you whisk while adding the juices to the roux, but you can heat it first to be sure if you want. I like to add the drippings and scrapings off the bottom of the roaster. Now since I use a cooking bag they are not crispy like in a roaster but they work. You can also add the giblets( my family wont eat them so I don't even cook them).
That's it!
Have a Bloggity Day I have to go shopping!