FREE Full Size AXE Body Wash -First 2,000 TODAY at 12 Noon EST

Axe is giving away FREE full-size body washed to the first 2,000 who take their Quiz every Monday at 12 noon EST.
Click on this link
to "like" them on Facebook so you'll be ready to go at noon. The award will be given in the form of a coupon and can be redeemed for Cool Metal, Shock, Fever, Thai Massage and Rise. This contest will go live every Monday through December 16th, 2011.
Free Suave Professionals Products Tonight (Monday at Midnight EST)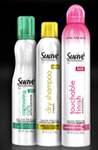 Can you tell the difference between Suave Professionals and other high end hair products? click on this link to watch the video, if you answer all 4 questions correctly, you'll have the opportunity to choose 2 FREE full-size Suave Professionals Products! The first 2,703 each week get 2 free products, first 4,730 get 1 free product coupon. If you're one of the first 122, you'll also win a free magazine subscription, and the first 68 will get a Styling tool. Remember, this contest starts at midnight Tonight, so don't be late if you really want to score some amazing freebies! This contest resets every Sunday night/Monday morning at 12 midnight and goes through November 27, 2011.
Enter Here